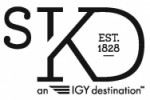 Address

50 St. Katharine's Way
London E1W 1LA

GPS Coordinates

51.51 N,0.07 W
Phone

+44 (0) 207 264 5312

Website

https://www.igymarinas.com/marinas/st-katharine-docks

Email

SKD@IGYMarinas.com
General Information
St. Katherine Docks is located approximately 40 nautical miles up the Thames River, adjacent to the Tower of London. There is 185 slips for vessels up to 40m.
The waterfront cobblestone promenade of boutiques, eateries, pubs, and markets, provides beautiful places to explore along the marina's waterfront. The marina facility offers, waste management, concierge services, provisioning, fitness center, showers, and world-class on-site dining and shopping.
Surrounding the marina is an abundance of restaurants and bars, entertainment and close proximity many of London's most famous tourist attractions.